Features on Asian Art, Culture, History & Travel
Features
Features > Regal Rowing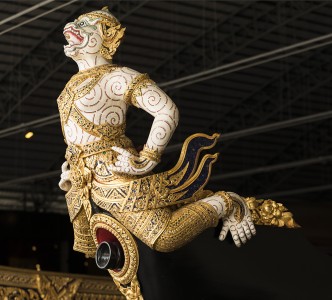 Regal Rowing
Story by Joe Cummings / CPA Media (23 March, 2022)
SEE MORE ROYAL BARGE IMAGES @ PICTURES FROM HISTORY
Back in 17th-century Ayuthaya, when a royal French delegation sent by King Louis XIV arrived in the kingdom, a Jesuit priest in the entourage, Father Guy Tarchard, wrote in his diary how an impressive riverboat procession received them.
"Four enormous barges came to welcome us, each manned by 80 oarsmen. I have never seen such a sight. The first two were in the shape of sea-horses and entirely gilded, looking extremely realistic as they sailed up from afar.
The four would have been part of a fleet of 324 barges maintained under Ayuthaya's King Narai for royal occasions and backed by thousands of boats of similar design used for defence in an era when river warfare was more common than sea battle.
When Burmese troops sacked the kingdom in 1767, they burned the entire Thai fleet. It was only after the Thai monarchy established a new capital in Thonburi that new boats were built and used for royal occasions in Bangkok over the next 300 years. After the Thai military coup of 1932 abolished absolute monarchy, the fleet languished in storage until WWII, when many were destroyed or badly damaged by aerial bombardment.
King Bhumibol Adulyadej (1946-2016) revived the ceremonial fleet and ordered extensive repairs and restoration starting in the 1950s. The first royal barge procession after the rehabilitation took place in 1959 to present Royal Kathin robes for monks.
Even after the rebuilding of the fleet, royal barge processions remained a rare event. During King Bhumibol's entire 70-year reign, only 16 royal barge processions were conducted.
Under the late king, the full procession eventually included 52 barges, of which 51 were restorations or replications of historical craft. One royal barge, the Narai Song Suban, was an entirely new design commissioned by the king in 1994. The fleet is manned by 2,082 Royal Thai Navy officers and oarsmen.
Today the fleet's eight principal royal barges are displayed at the Royal Barge Museum, a spacious boathouse on the north bank of Khlong Bangkok Noi where it meets the Chao Phraya River. The eight boats lie parallel to one another in dry dock over the river's edge under a high arched metal roof that allows plenty of ventilation. Each of the craft is carved from a single piece of golden teak, an amazing accomplishment considering they measure between 28 and 46 meters long. The narrow vessels boast tall, graceful prows carved with a variety of mythical creatures and deities borrowed from Hindu-Buddhist cosmology. Virtually every square centimetre of the prows, sterns and hulls above water level is gilded and intricately inlaid with shimmering mosaics of coloured glass. The proportions are simultaneously elegant and spectacular.
Taking centre stage is the 46-metre Suphannahong or Golden Swan, which features a heavily stylized swan head and neck carved into the lofty prow. Reserved for kings, it was crafted in 1911 during the reign of King Rama VI and is the world's largest dugout boat. Suphannahong's crew consists of 50 oarsmen, two steersmen, two officers fore and aft, one standard bearer, one signalman, one chanter and seven regalia bearers.
I recently paid a visit to the museum for the first time since it received an upgrade in 2015, taking in newer exhibits along the walls of the barge shed displaying special furnishings from the pavilions, including heavily embroidered and sequined curtains; ceremonial spears, swords and shields carried on the vessels; gilded paddles; medieval-looking uniforms worn by oarsmen and officers; and arcane musical instruments used to establish the rowing rhythms.
Considering the cultural and artistic rarities on display, the museum is well worth the 100 baht admission for foreigners (free for Thais). Photo permits are an additional 100 baht.
I wager that few visitors to the Royal Barge Museum know that less than two kilometres away near Arun Amarin Bridge, the Royal Dockyard Museum, maintained by the Royal Thai Navy rather than the Fine Arts Department, offers 12 royal barges on display along with extensive exhibits on Thai boatbuilding, naval war craft and more. I'll share more details on this little-known gem in another Joe's Bangkok.
Story by Joe Cummings / CPAMedia; Photo by Joe Cummings